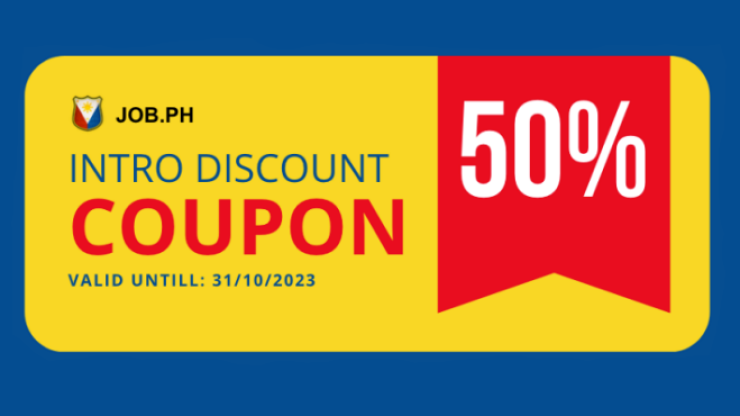 Super Admin
Since this website JOB.PH is new and employers may be unsure of advertising their job vacancies on JOB.PH, we have decided to issue a discount coupon.
Our discount coupon is for posting available job positions on our job board with jobs in the Philippines, and therefore the discount coupon is aimed at employers in the Philippines.
Discount coupons come in many shapes and forms of discount. We have decided for a percentage coupon. We have even decided to give whopping 50% discount of our job post packages as an introduction. The introduction period will be until the end of October 2023.
This means that posting job vacancies on JOB.PH is very cost effective. First of all, the first job post is 100% free! In addition to that there is a generous 50% discount coupon for more than two whole months.
We hope that this will be ample time for employers in the Philippines to see that JOB.PH is a good solution to their recruitment needs, and that it gives the employers a good selection of highly qualified, skilled and experienced employees to select their employee's from.
How to use the discount coupon? After registration and setting up the company profile you select the job advertisement package you want to order. Then you will be asked if you have a coupon before you finalize the payment. Here you select that you have a coupon, and type: INTRO50. The the 50% discount will be deducted from the price and you can finalize the purchase.
We look forward to serve you!
Related Blog Posts